Welcome to Coconut Grove
Find sanctuary inside the balmy tropical neighborhood of Coconut Grove. Boasting laidback-lux Mediterranean Revival-style mansions, natural oak lined sidewalks and exotic peacocks roaming the palm shaded streets, there is nowhere dreamier to reside in South Florida than this charming city. Yielding a warm and inviting environment sprawling with magnificent real estate, Coconut Grove is constantly sought after by young professionals, business executives and families due to its rich architectural character in synthesis with a quiet and quaint lifestyle. Dubbed Miami's first metropolitan community in 1925 by a dynamic group of pioneers, artists, intellectuals and adventurers, Coconut Grove is known to locals as a primarily historic neighborhood that's filled with early Bohemian influences and new construction modern aesthetics.
Located in the epicenter of South Florida, this sophisticated city is bordered by the Rickenbacker Causeway, US-1, Biscayne Bay and Coral Gables. Tucked away from metropolitan Miami, residents will find romantic vibes in combination with boutiques, galleries, new-concept eateries, sidewalk cafes and sailboats anchored off the dolphin-filled Biscayne Bay. Child friendly, there are an abundance of activities to explore from specially curated farmers markets, leafy waterfront parks, outdoor shopping malls, sailing clubs and stately museums. But what makes this archaic community unique to others in Miami are its deep historic roots that are represented through Coconut Grove's pastel colored walls and weathered architecture.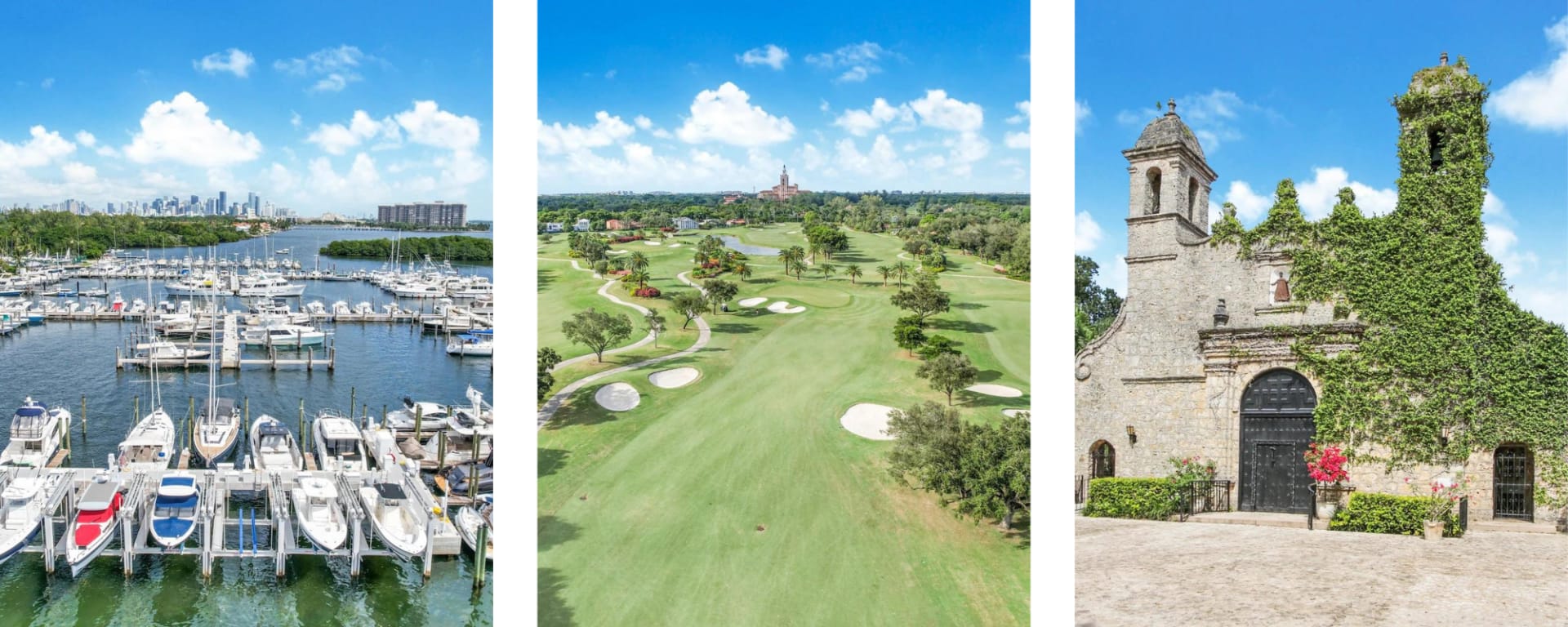 Characterized through coral, oolite limestone, pine and cypress design elements, the real estate market in Coconut Grove is elegant and dense with passion. Home to the county's two oldest residences that are still inhabited today, buyers can find a combination of Mediterranean Revival-style estates, new construction mansions and state-of-the-art condominiums that reflect a tropical modern flair. One of the most luxurious properties in the neighborhood that speaks to the Miami lifestyle is The Fairchild Coconut Grove. An organic partnership between world-renowned architect, Max Strang and celebrated interior designer, Rafael de Cárdenas, this exceptional residence offers twenty-six apartments, each resting on the aquatic's edge. Situated inside the exclusive community of Glencoe, residents can meander through the fragrant Kampong-inspired gardens with ease, knowing their privacy is protected or hop on board a sailboat with direct water access to the bay. Pleasing to the senses, this unparalleled structure speaks to Coconut Grove's engaging character with Miami's contemporary undertones in mind.
But although this picturesque community has seen an increase in modern residential condominiums, single-family estate-style homes located inside private gated communities remain the most sought after due to their sophisticated architectural features. From chic aesthetics to airy interiors and uninterrupted views of the rolling waters, the decorative elements are dignified and fashionable representing the best that Coconut Grove has to offer. Hybrid living is enhanced with summer kitchens, infinity edge pools, flowing waterfall features, private dockage and zen-like spa bathrooms making for the idyllic vacation-style abodes.
And if proximity to urban meccas are of preference, residents can find Brickell, Downtown Miami and South Miami located only 15 minutes away. Miami International Airport, Port of Miami and Virgin MiamiCentral are also within close reach.
A family friendly atmosphere and home to some of the top ranked private and public schools in the country, parents can send their children to an array of grammar and preparatory schools offering advanced placed curriculums, premiere magnet programs and rigorous college preparatory courses. Award winning institutions include but are not limited to: Ransom Everglades, La Salle High School, Carrollton School of the Sacred Heart, Coconut Grove Montessori School, Coconut Grove Elementary School and George W. Carver Elementary School and Middle School.
Historic Landmarks & Sites
A lusciously landscaped neighborhood steeped in history, Coconut Grove represents the ultimate in South Florida heritage with an array of parks and museums that lend homage to Miami's beginnings. Peacock Park, Women's Club of Coconut Grove, The Coconut Grove Library, Eva Monroe's Grave, The Coconut Grove School, The Old Bank of Coconut Grove, Peacock Plaza and Anthony Arcade, The Barnacle and Coconut Grove Playhouse are amongst the community's most coveted landmarks.
However, the most captivating museum and structure in the area is Vizcaya Museum & Gardens. Owned by Charles Deering who was a prodigious industrialist and designed in collaboration by F. Burrall Hoffman, Paul Chalfin and Diego Suarez, Vizcaya explores the core of European elegance in synthesis with tropical hardwood hammocks and Mediterranean-inspired architecture. Miami's most iconic emblem, locals and tourists have been known to peruse Deering's memorable estate, snap photos inside the evergreen gardens curved with mazes and rent out the site for weddings, coming of age celebrations and charity balls.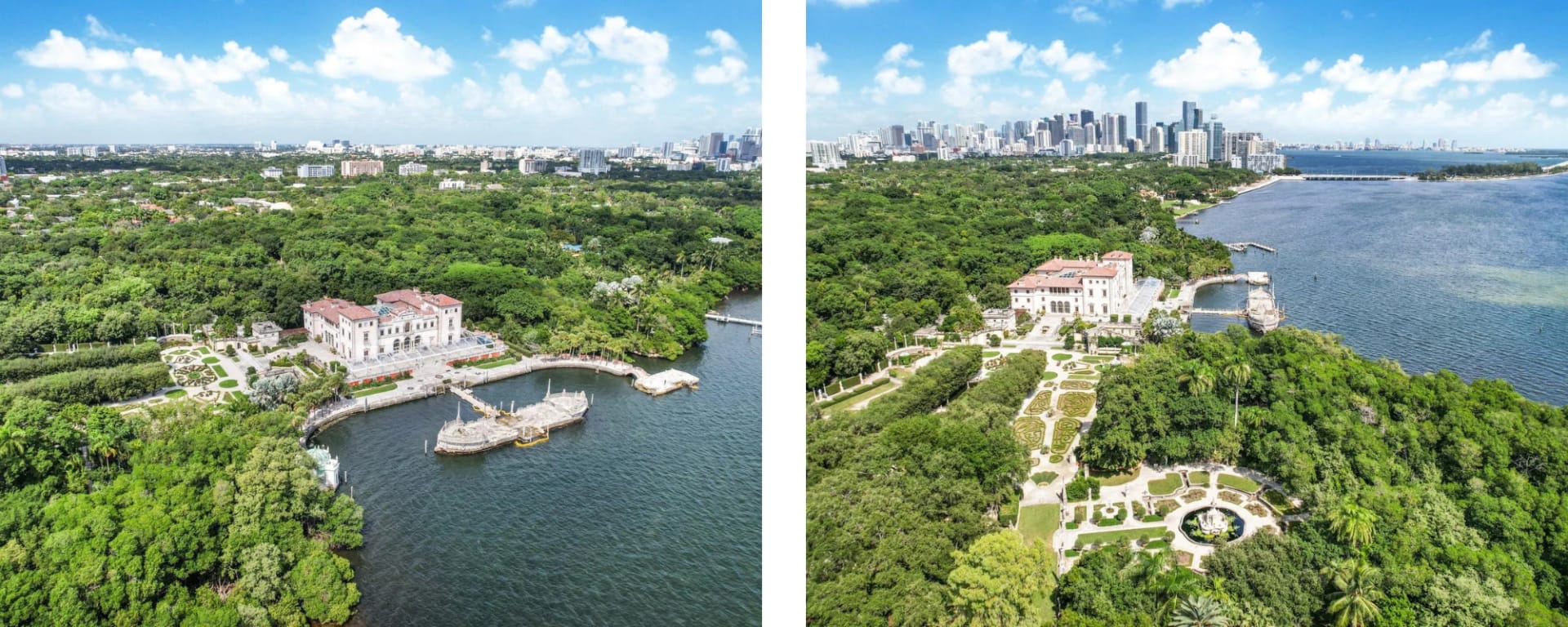 Laidback Waterfront Lifestyle
There are countless reasons that international property hunters look to invest in real estate in Coconut Grove. But what makes this community a sparkling prize is its waterfront lifestyle and array of cool casual dining options. Offering something for everyone from power sushi lunches to health-conscious fare, residents can indulge in a collection of restaurants that fit all flavor profiles and special occasions. Some of the top ranked outposts in the area include: Fireman Derek's Bake Shop, Bombay Darbar, The Spillover, Sapore di Mare, Jaguar Ceviche, Harry's Pizzeria, Farinelli 1937, Lokal Burgers & Beer, Atchana's Homegrown Thai, Le Bouchon du Grove, Strada In The Grove, Vicky's House, La Rue Bistronomie, Peacock Garden Bistro, Lulu in the Grove, Greenstreet Café, Glass and Vine, Monty's Raw Bar and Proof Pizza. But of all the delicious eateries in the neighborhood, Ariete is the most coveted. Helmed by Miami's rising star chef, Michael Beltran, this elevated eating house presents diners with a refined menu on the backdrop of a laidback environment quintessential to Coconut Grove's friendly ambience.
High-end shopping is in abundance at Cocowalk. Located in the center of Coconut Grove, residents can enjoy an open-air shopping mall featuring vibrant restaurants, art galleries and boutiques just steps away from their front door.
But most visually stunning – and what lends Coconut Grove its prolific reputation as one of the country's most cherished waterside havens – is its expansive sailing landscape. A nautical paradise, sailboat aficionados can discover notable sites and exclusive members-only clubs like the Cape Florida Lighthouse, Biscayne Bay Yacht Club, Coconut Grove Sailing Club, Coral Reef Yacht Club, U.S. Olympic Sailing Center, Shake-a-Leg Miami and Mayfair in Coconut Grove. Home to world-class regattas such as Columbus Day Regatta, US World Cup Regatta and Miami Sailing Week along with Dinner Key Marina (Florida's largest wet slip marina), Coconut Grove presents the perfect destination for those looking to live the maritime lifestyle.