Welcome to Wynwood
When walking through Miami's Wynwood Art's District, it's easy to spot wildly groovy spray-painted colored walls, funky bohemian boutiques and a kaleidoscope of world-renowned art galleries. Known as the arts hub of South Florida, this lively neighborhood is packed with vibrant culture and innovation featuring more than 70 galleries and museums, countless new restaurants and bars and a magnitude of start-up companies that make this trendy mecca come alive. Wynwood is located north of Downtown Miami and south of the Miami Design District. Once home to a host of industrial warehouses and auto shops, Wynwood has transformed into the epicenter for all thing's art in Miami, coined one of the area's fastest growing communities.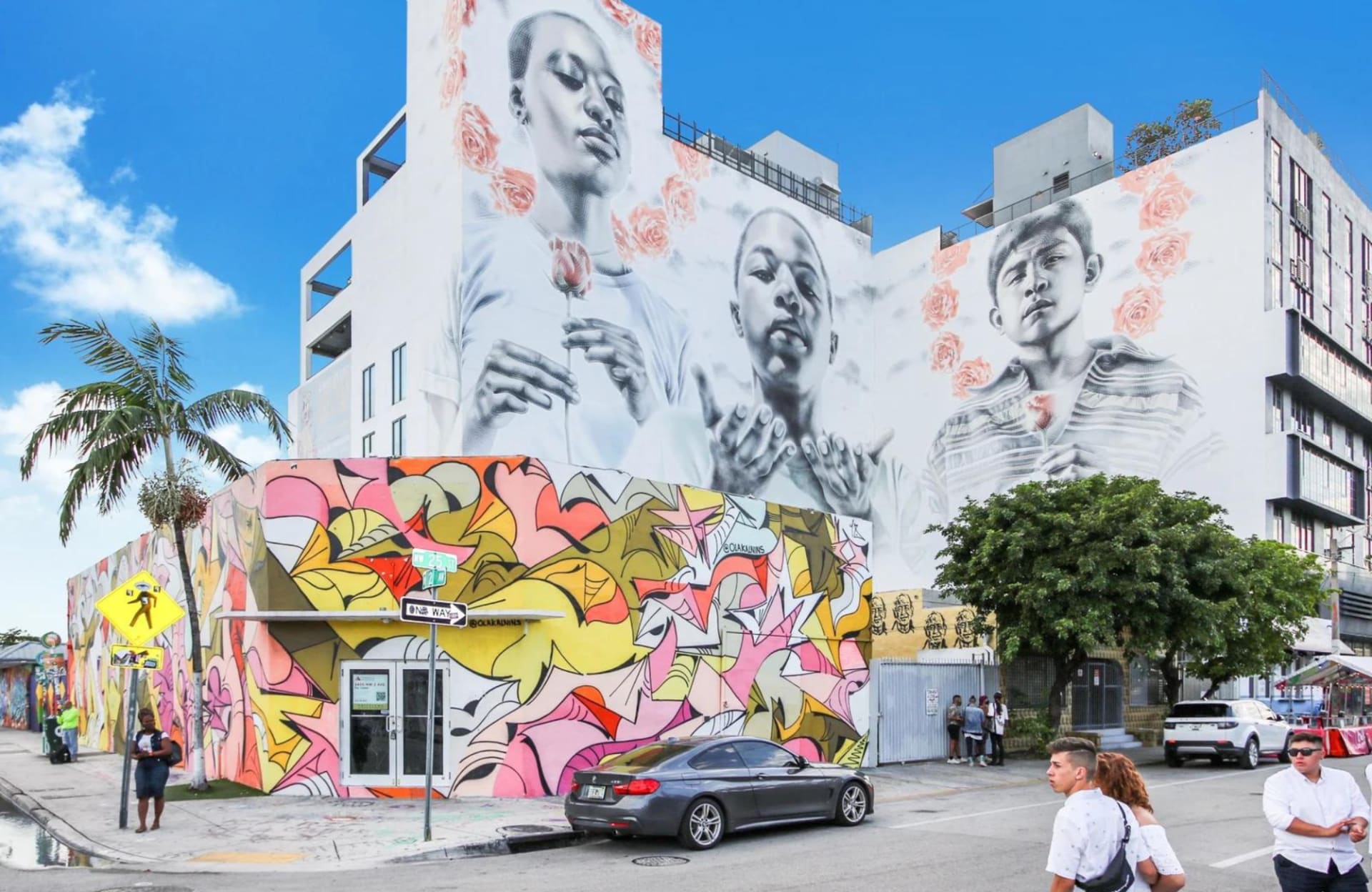 However, equally emerging is Midtown Miami, Wynwood's adjoining neighborhood. Referred to as the "collective term" for the Wynwood and Edgewater communities, Midtown Miami is situated between North 29th and 36th Street and Miami Avenue and the Florida East Coast Railway (FEC) on what was historically an FEC rail yard. Initially developed in 2005 with the construction of the Midtown Miami condos, this small neighborhood has since burst into a quaint metropolis and is home to the Shops at Midtown (built to mimic New York's SoHo neighborhood). Most recently, Midtown Miami has witnessed a surge in luxury residential condominiums and office buildings. New construction buildings located in the community include Midtown 2, Hyde Midtown Miami, Midtown 4, Midtown Five, Midblock and Liner Retail. But what's most unique about Midtown Miami's real estate options are the surplus of exclusive retail venues leased in each tower such as Food Network TV star Guy Fieri's favorite restaurant named Blackbrick (located in Midtown 2) or the revolutionary fitness group Barry's Bootcamp (located in Midblock).
Situated within walking distance from each other, Midtown and Wynwood both offer a laidback neighborhood feel that's equally up-and-coming and rightfully established. From Midtown Miami's idyllic family friendly atmosphere that presents an array of casual cool restaurants and familiar retailers to Wynwood's highly curated entertainment scene and buzzing art narrative, there is no shortage of weekend pastime to experience, enjoyable for all ages.
Pursued amongst professionals and business executives, residents can find Miami International Airport, Port of Miami and Virgin MiamiCentral a short drive away making commuting to Palm Beach accessible and planning cross country trips easy. Top ranked public and private schools are within a short range. Miami Country Day School, Hebrew Academy RASG, The Cushman School, School for Advanced Studies – Wolfson, New World School of the Arts, iPrep Academy and Design & Architecture Senior High School each offer advanced placement courses and rigorous college preparatory programs, providing children with an award-winning educational environment. Offering an ever-expanding setting, Midtown Miami and Miami's Wynwood Art's District are the perfect neighborhoods to invest in, whether choosing a permanent home or vacation abodes.
Elegant Residential Condominiums & Office Buildings
Midtown Miami offers residents an abundance of awe-inspiring luxury condominiums with views of Biscayne Bay, South Beach and Downtown Miami. Capturing the character of the neighborhood's live, work, play ambience, the towers in this charming community offer boutique shopping, new-concept eateries and every day conveniences including Omni Nail Salon, Solid Core, Chase Bank, OXXO Cleaners, GLAM Vegan and Salon Ethos.
One of the most striking buildings in Midtown Miami is Hyde Midtown Suites & Residences. The brainchild of several visionary developers, this 32-story tower places a new iconic structure in the sky with amenities never seen in a residential condominium before. Potential property owners can peruse the building's restaurant and pool bar, 7th floor pool terrace and heated lap pool, cabana service, full service spa and fitness center, exclusive access to "Delano South Beach Hotel", private screening theater, putting green, tennis court and pet friendly services. Residents of Hyde Midtown also have exclusive membership benefits to sbe HOTELS, sbe RESTAURANTS and sbe SPA.
Northblock, nestled above the Shops at Midtown, presents edgy office, showroom and gallery spaces that feature architectural details unlike any other building in the area. Double-high spaces and floor to ceiling glass encased in satin metal frames are just some of the modern design elements that grace this ultra-contemporary structure. Located on the ground floor, attendees can visit a profusion of retail storefronts such as HomeGoods, Marshalls, Nordstrom Rack, Ross, Target and West Elm.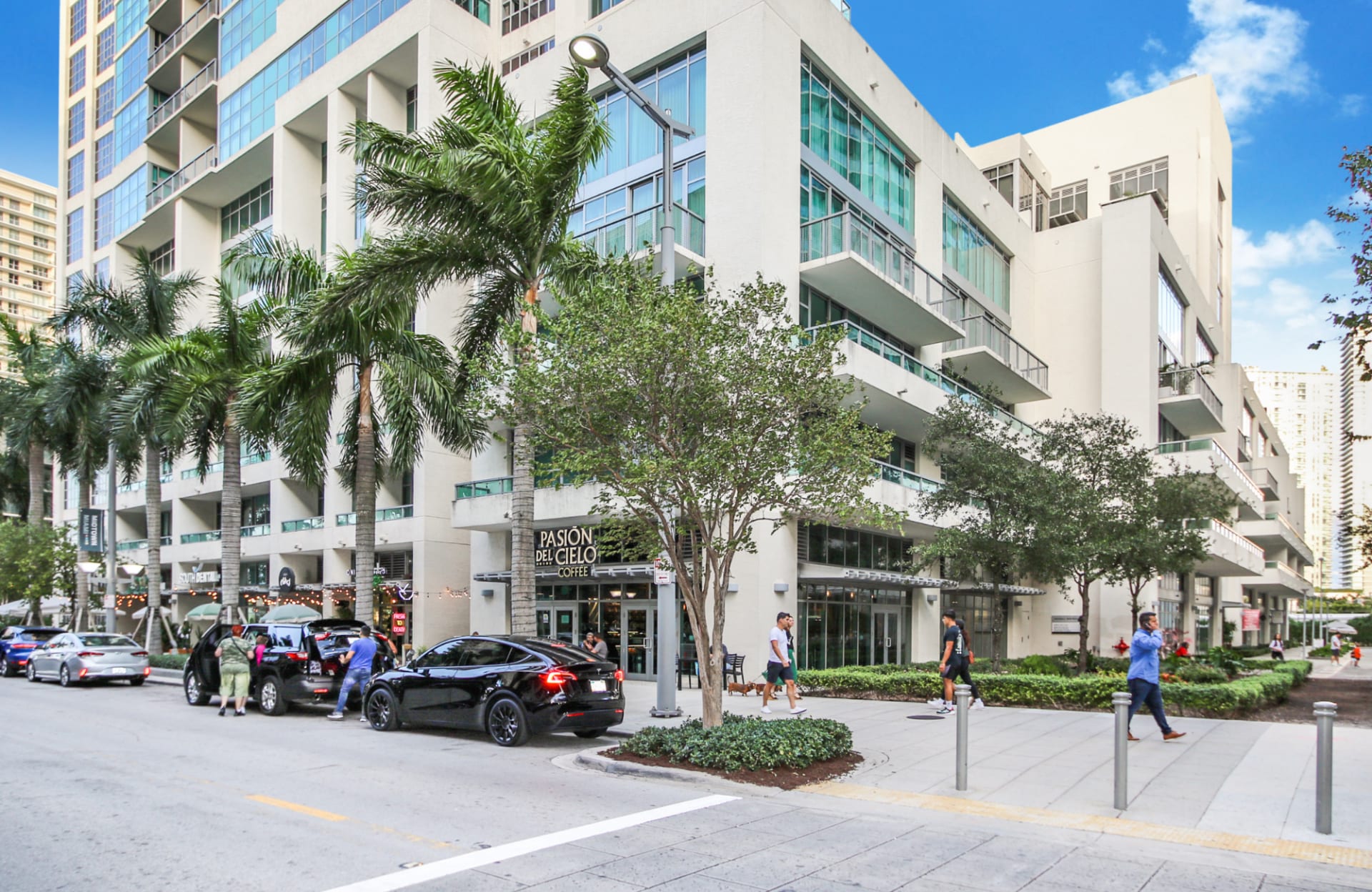 Epicenter of Art, Culture & Innovation
Miami's Wynwood Art District is the most eclectic neighborhood in South Florida. Internationally recognized as a premier destination for art, fashion and creative enterprise, Wynwood has undeniably become one of the world's most recognized art districts due to its vivid murals that adorn the area's windowless facades. Atrium Art Gallery, Atomilk, El Pez, Maya Hayuk, Ology Collective, Wynwood Walls, Wynwood Doors and Wynwood Building are some of the larger-than-life exhibitions that are showcased in Wynwood.
Outside of over 200 plus murals, Wynwood houses a collection of renown galleries. Notable establishments include Goldman Global Arts Gallery, Miami Supercar Rooms, Oliver Cole Gallery, Robert Faintaine Gallery and Wynwood 28.
Experiencing a renaissance after facing a decade of dark warehouses and shuttered factories, Wynwood has transformed into not only an artistic haven but a required stop on Miami's gastronomic map. Most prodigious to the neighborhood is Alter by Chef Bradley Kilgore. A James Beard finalist, this local chef has tantalized taste buds with down to earth experimental cuisine using seasonal ingredients from across the globe. Additional restaurants and bars popular amongst locals include Beaker + Grey, Cielito Artisan Pops, Coyo Taco, Dasher Crank, Joey's Italian Café, 1-800 Lucky, KYU, Le Chick, MIAM Café, The Salty Donut and Veza Sur Brewing.
Wynwood Yard, a pop-up entrepreneurial hub that introduces creative food, drink and design in an outdoor setting, is Wynwood's most vivacious entertainment venue. Hosting exciting concerts, inventive culinary entrepreneurs and exquisite private events, this empowering destination blends everything most coveted about Wynwood into one glorified space.